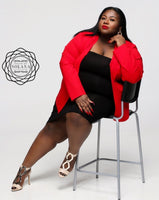 Hello, I'm Sasha Solana Walton, founder and CEO of "House of Solana." This is a plus size clothing line that was created at the age of 20 while I was in college. I attended Mount Mary College and studied fashion design for 5 years as well as studying abroad in Paris, France and Antwerp, Belgium. 

Also my career has flourished into a wonderful division of making art with the plus size body and understanding who "She" is and the desire to create for her.  Experiencing going to New York fashion week, Curves Beautifully Empowered in Seattle, LOLC Live Out Loud Charity in Chicago, Chicago Fashion Week, also going to London, England to present my line. I was also the first plus size designer to showcase at Paris Fashion Week with Fashion Week Studio and Fashion by Events, which has really shown how my clothing line can expand and speak in photos, runway and on the the every day woman.

The motto for House of Solana is the thrive of lavish, beauty, and style.  House of Solana is for women that want to look and feel beautiful, for the woman that wants to be fierce from to night, as well as for the woman who loves the simple look with a twist. I design for plus size women because my passion is for creating that diversity of clothing for women to break out of their shell and be the woman that she commands to be, instead of just one standard of beauty.
Image slide

Tell your brand's story through images
Image slide

Tell your brand's story through images
Image slide
Tell your brand's story through images
Image slide
Tell your brand's story through images